About the Grantha Script
Viewers may be interested to know a little bit about the Grantha Script. The following can be helpful information before you start the tutorial. This space will be overwritten when viewing the sections of the tutorial but one can always reload the page (grantha.php) to return to this introduction.

The Grantha script was in use in South India for over 300 years. Early writings on Palm leaves have been preserved for a long time and have not seen the degeneration one encounters with printed paper. Yet, owing to the mass production of printed volumes, Palm-Leaf manuscripts were slowly transcribed into print, with the establishment of printing presses supporting the Grantha Typeface. Such printing facilites were seen in Kumbhakonam, Trichy and North Madras and these flourished during the early part of the twentieth century until Devanagari printing came into prominence, especially after India's independence. Seen below are examples of written and printed Grantha text.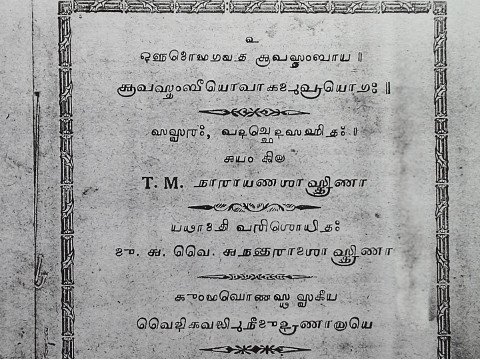 Grantha was the primary script taught to all those learning the scriptures through manuscripts written on palm-leaves. In essence the script was close enough to Tamil orthography, though it accommodated the requirements of Sanskrit.

Maha Periyav's concern was with the disappearance of the printing facilities for Grantha in preference to setting up Devanagari printing. There is perhaps a great treasure of knowledge which remains unearthed from the palm-leaf manuscripts.

Interestingly, several manuscripts had been carted away to libraries in foreign countries and are being preserved well. In one of the volumes of Deivathin Kural, Maha Periyava says that rather than speak ill of such thefts, we must be grateful to the west for creating an awareness in the country for preserving the wealth of knowledge in the light of the oral tradition dissipating away!

Colin Mackenzie, the first Surveyor Genaral of India had started the process of collecting manuscripts in the South and his collections paved the way for setting up the Oriental Manuscripts Library in Madras.

There are well known instances of unjustifiable treatment of the leaves. Perhaps in those instances people felt that the oral tradition would suffice to retain the knowledge but had not anticipated the consequences.

The younger generation must act now. Learn the script!
---